Tandem Jump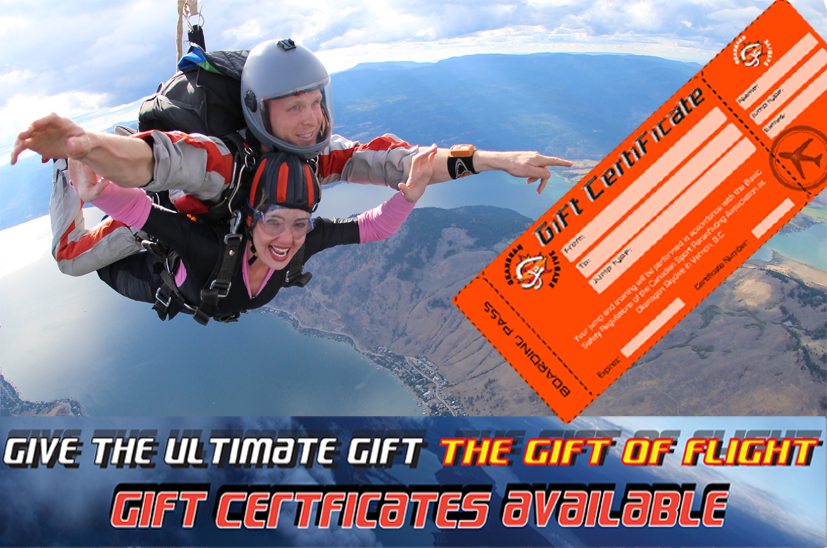 Tandem Skydiving is the safest and easiest introduction into the sport of skydiving available.

The Tandem Skydive program at Okanagan Skydive allows you to get the full skydiving experience, with the assurance of an experienced and certified instructor connected to you.


- Registration
- Equipment and preparation: Safety features of the equipment as well as aircraft loading and seating.
- Exits and Freefall: Practical training in aircraft exits and freefall body position.
- Canopy Flight: Openings, and basic canopy flight and landings are covered.
- Rehearsal: A skydive exit rehearsal will be performed on our aircraft mock up. Here your instructor will cover all the proper techniques for exiting the aircraft.


Next, you will get geared up in the equipment provided: a special skydive jumpsuit and a para helmet. Then board the aircraft with your instructor and climb to jump altitude, from where you will launch your skydive!

OFF WE GO! Within seconds you reach speeds of over 120 miles per hour in freefall. You will experience 30 seconds of freefall, at five thousand feet, you feel the gentle tug of the canopy opening. The next 5 to 10 minutes you float through the sky.

The view over Vernon is breathtaking. During a peaceful parachute ride back to the Vernon airport you will soar over the lush orchards and vineyards that make up our beautiful valley.

In addition, you will receive a first jump certificate, perfect for mounting on the wall.
Safety First!
*All of our Tandem Masters hold current ratings from the manufacturer of the equipment being used, as well as the Canadian Sport Parachuting Association, which inturn is recognized through the Coaching Association of Canada.
Requirements
-Valid government issued ID (Drivers License, State ID, Passport)
-18 years of age or older
(or 16 with parental constent + one of the parents MUST be there and have a valid photo ID)
-Under 250 pounds
-Runners
-Dress for the weather (normally it is 10º colder at altitude than it is on the ground)
Video & Photos
Relive your adventure! Add the video and/or stills package to your memorable experience!
Let your video take you right back to that moment, share your story and relive the experience again and again!
We are proud members of the Canadian Sport Parachute Association and therefore offer a complete licensing program that is recognized worldwide. Our dedicated coaches and instructors will guide you confidently into the surreal world of group freefall and $35 skydives.



We invite you to experience the Okanagan Valley like never before!
From 10,000ft and at 120mph!